We are committed to our colleagues, clients and our communities.
At Forbes Partners, our core values are the cornerstone of our identity and the driving force behind our pursuit of excellence in serving our clients. We are steadfast in our commitment to providing a competitive and comprehensive compensation package, fostering a challenging environment that rewards adaptability and effort, and nurturing a culture where inspiration and continuous learning are deeply valued. We believe in a performance-driven approach that recognizes the unique contributions of each individual, ensuring that experience, ideas, and efforts are not only acknowledged but celebrated. By promoting a harmonious work-life balance, we aim to cultivate higher-quality professionals who share our vision of growth and innovation in the industry.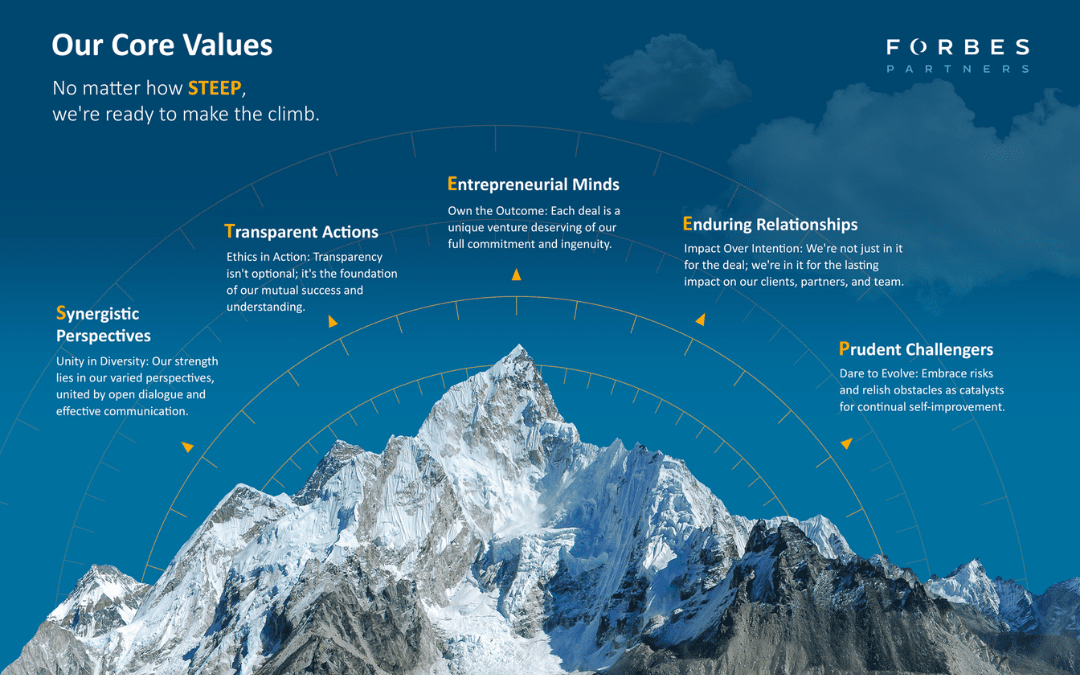 These are the values that drive our firm:
Synergistic Perspectives
The whole is greater than the sum of its parts. Our team thrives on diverse perspectives, fostering richer solutions and a dynamic work environment. Open debate and effective communication are essential.
Transparent Actions
Transparency is manifested through a culture where we freely disagree without being disagreeable, where strong ethics guide our every decision, where we uphold high integrity and demand it from others, and where open communication is not just encouraged but considered critical to our success and mutual understanding.
Entrepreneurial Minds
Having an entrepreneurial mindset means embracing personal ownership in our approach, treating each deal and client as a unique and promising new venture, fostering continuous improvement and innovation, and relentlessly pursuing the achievement of exceptional outcomes that exceed expectations.
Enduring Relationships
Enduring relationships signifies a profound commitment to the serious and impactful nature of our work, which resonates deeply with the lives of clients, partners, and employees; it emphasizes the essential role of partnership and collaboration, and places the culture and well-being of our team at the forefront.
Prudent Challengers
At Forbes Partners, our prudent challengers embody a courageous willingness to take risks without fearing failure, have a relentless pursuit of improvement over dwelling on the negative, and acknowledge that details are not merely important but extremely vital. We value a commitment to being self-reflective, humble and leveraging our collaborative culture to foster an 'iron sharpens iron' mentality that continually challenges and refines our approach.