Technology Industry M&A Services
Serving as the investment bank of choice for extraordinary tech companies
In the highly competitive technology industry, companies that engage end users, minimize customer acquisition costs, and maximize customer retention emerge on top. Yet with technology always moving forward and new entrants emerging, it can be difficult to stand out in this crowded field.
The Forbes Partners Technology team understands the KPIs that drive a tech business's success and is experienced in navigating a challenging tech M&A market.
Advisors on our Technology team help tech companies hit their KPIs and position themselves for a successful sale. We regularly work with technology businesses in areas including:
Adtech/Digital Marketing




Aerospace and Defense

Data & Analytics

Digital Gaming

EduTech

FinTech

Information Security
Software & SaaS
UAV's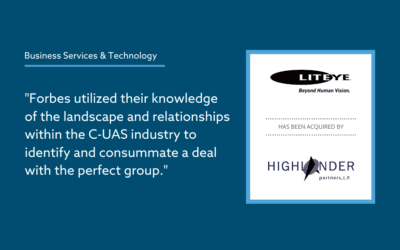 Denver, Colo., December 19, 2022-- The Forbes M+A Group ("Forbes"), is pleased to announce it has served as exclusive advisor to Liteye Systems ("Liteye") on its sale to Highlander Partners, L.P....
Recent Transactions
 |
Technology
The above transactions may include both Forbes Partners clients and clients of its non Broker-Dealer affiliate, The Forbes M+A Group.  Click the transaction image to learn more.