After years of absence or low attendance caused by the pandemic, SuperZoo 2022 returned with a bang, hosting more than 1,200 exhibitors and 20,000 pet professionals. While the show has had a grooming focus in the past, this year was far more inclusive, with massive sections dedicated to emerging brands, natural and health-focused companies, specialty and lifestyle companies, and more, all focused on. The Forbes team visited the event to connect with industry leaders, evaluate trends for sector M&A, and learn about what's driving leaders in this ever-growing category.
According to the American Pet Products Association (APPA), the U.S. pet industry grew to ~$124B in 2021; up from ~$104B in 2020 – ~20% YoY growth – with $50B spent on pet food and treats alone.  The pet food industry is expected to grow ~5% annually through 20261, making it a highly attractive space for entrepreneurs and investors looking to piggyback on the momentum driven by younger, higher-spending pet owners. This interest is reflected in the numbers – 2021 saw a record number of these deals with ever-increasing valuation multiples.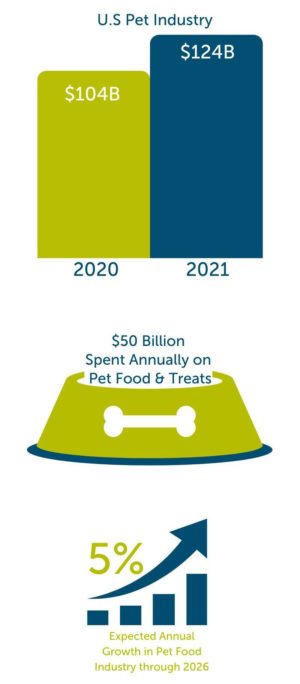 Each transaction has its own drivers, but it's clear that the attractive margins, consumable products, brand and product loyalty, product innovation, and increased pet ownership have positioned the pet sector as one of the most attractive segments of the market for investors to put their money to work. One challenge discussed at SuperZoo by many companies in this industry is their struggle with logistics issues that have occurred during and since the pandemic, as well as the associated rising costs. Fortunately for those affected businesses who may be looking to transact or sell soon, these supply chain-related issues should not be longstanding.
Mirroring the wellness and leisure category, one of the main drivers in the pet industry has been innovation. The companies that get the most attention from investors are those that offer on-trend products. This is particularly true in the supplement space, where sales which were up 50% over a 3-year period compared to 34% growth for human supplement products. These and other trends in the pet sector have been excellently described by Jordan Tyler, a digital media editor at Pet Food Processing. Jordan's category expertise is clear; I enjoyed getting a chance to meet her and pick her brain on what she saw at SuperZoo given her focus on the space. Read Jordan's take on this year's event in her article "Top trends seen at SuperZoo 2022."
If you own a privately held, growing pet company with brand strength, category leadership, niche offerings, or other differentiated capabilities, I'd love to connect to discuss how you might capitalize on today's strong buyer interest in this category. Our team works with a select few clients each year and engineers customized processes using unconventional techniques to move quickly and deliver maximum value. Contact us today.